Chevrolet Oil Change Service near Fort Worth, TX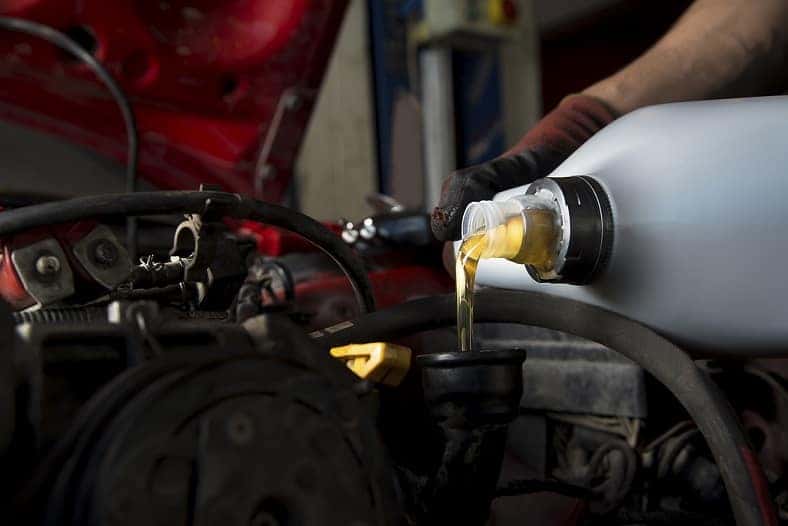 Looking for an easy way to prolong the life of your Chevrolet and make sure that you are enjoying maximum performance? Here at Lynn Smith Chevrolet we always recommend keeping up with routine oil changes. This quick visit can save you time and money in the long run, so stop by our service bay today! 
The Importance of Oil Changes
Regardless of if you commute around Fort Worth in a Silverado 1500, an Equinox, or a Camaro, your Chevrolet vehicle needs the proper amount of clean oil to keep the engine running. Many drivers choose to put off an oil change or wait until the warning lot goes off, but doing so can cause numerous problems. Depending on how long you wait to get an oil change you can experience decreased power, less fuel efficiency, and could potentially burn out the engine. That's why our team puts an emphasis on keeping track of your oil change timeline and knowing how to check your oil levels at home. 
When Should You Get an Oil Change?
Each Chevrolet vehicle and model year can have its own unique details under the hood, so the best place to start when getting ready to check your oil at home is the Owner's Manual. It will specify where to find the oil, how to read the dipstick, and any specific aspects to keep in mind. Depending on how often you bring your vehicle in for service, we suggest checking the oil every few months and always before taking a long drive or road trip. If you drive an older vehicle that could be leaking oil, you may need to check it more often. Our team is always happy to perform a quick multi-point inspection and let you know if it's time for an oil change. 
Our Comprehensive Service Department
Our certified technicians are ready to get your vehicle's oil changed quickly and with the right oil for it's specific performance needs. They'll talk with you about the available options and their different features. We carry all of the name brand oil recommended for Chevrolet vehicles, including ACDelco Gold Conventional, ACDelco Dexos1 Full Synthetic, and Mobil 1 Full Synthetic. We also inspect the oil filter. Once the oil has been determined, all you have to do is sit back and relax in our waiting area. Before sending you on your way our team will also do a fluid check and inspect the tire wear to make sure you aren't due for a new set. 
For peace of mind and expert care, come to Lynn Smith Chevrolet! Call us today or stop by for an oil change service near Fort Worth, TX.