How to Find an EV Charging Station in Burleson, TX

Whether you already have an electric vehicle or you're planning to take the plunge, it is a great idea to know how to find public charging stations near you. To make it easy, we at Lynn Smith Chevrolet have put this overview together to show you the ways to locate a charger in your area! For more information, contact our team.
Types of Chargers
Before we can dive into the details, you should first be aware of the various kinds of chargers that you can use to get your EV back to 100 percent. If you simply need to top off the power, then you can likely use a Level 1 charger. This uses low amounts of energy to slowly revitalize your battery. Often installed into homes, Level 2 stations can offer more energy. These utilize about 240V of power to get your vehicle back on the road much quicker than Level 1 iterations. Finally, DC Fast Chargers are the top of the line, and make use of at least 480V to rapidly juice up your ride. Since they're so quick, they are often harder to come by, but they can be exactly what you need to resume your road trip in a pinch. Also, Level 2 and DC Fast Chargers are often what you'll find at public stations, so look forward to quickly energizing your battery if you stop at a local EV port.
Locate a Charger Near You
While you can charge your Chevrolet EV at home, sometimes the length of a journey surpasses the range of your ride. If that happens, public stations can be extremely useful. However, since they aren't as plentiful as gas stations, you may be worried about being unable to find one. To help you out, the myChevrolet Mobile App comes with an Energy Assist1 feature! This will show you important information about your EV's range and battery, and you can also use it to find locations of public chargers. Use this tool when you need to plan a route between two public ports, as it will automatically take your vehicle's range into account. There are also many great apps and online sites that make it easy to view all of the current public charging stations in the Burleson area, such as ChargeHub and and the Alternative Fuels Data Center.
Chevrolet EV Lineup
Now that you know how to find these locations, you might be curious about the EVs that Chevy has to offer. Fortunately, this brand has plenty of ways to help you avoid the gas station! First of all, the Bolt EV is a subcompact car that can provide for you in terms of power and comfort. If you need a bigger set of wheels, then the Bolt EUV is prepared to give you the space you require. Verve is standard in both of these rides, but it's only natural to want game-changing power. That's where the Silverado EV comes in. This is a fully-electric pickup truck that is soon to land on the scene, so chat with our team to stay up to date on all the details. All of these rides are compatible with public EV ports, so find one near you to get it back to full battery life!
If you have any questions about how to find an EV charging station in Burleson, TX, then rely on us at Lynn Smith Chevrolet. We can't wait to meet you at our location!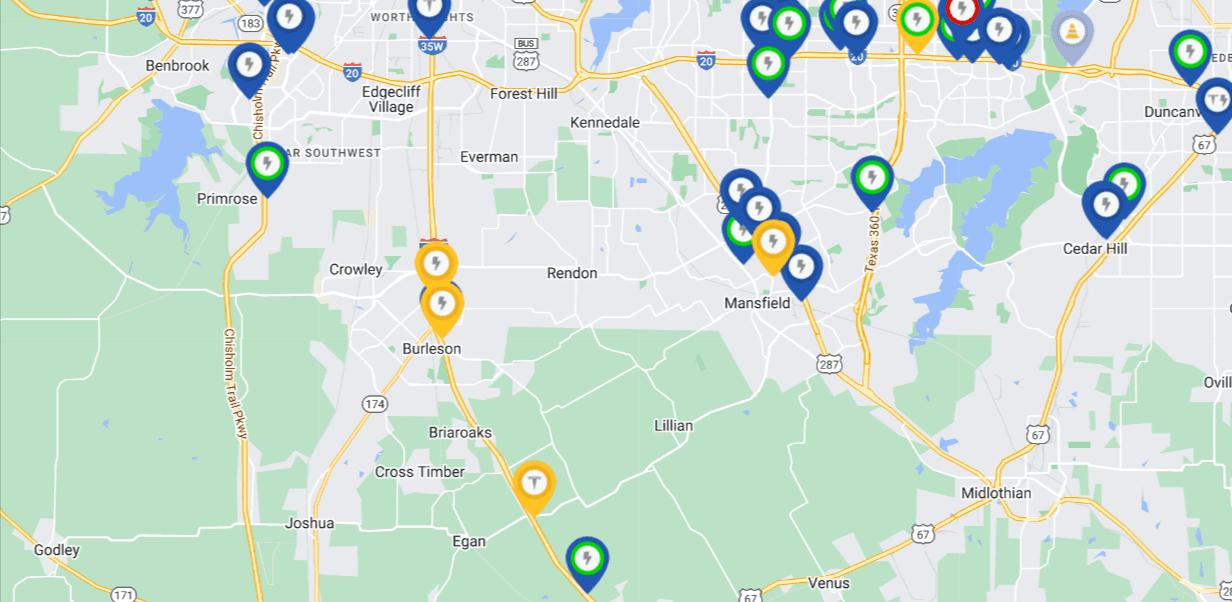 *Charging station information accurate at time of publishing. Exact stations, locations, and charging fees subject to change.
1. Available on select Apple and Android devices. Service availability, features and functionality vary by vehicle, device and the plan you are enrolled in. User terms apply. Device data connection required. See onstar.com for details and limitations.